So far there are two books of 23 Envelope / v23 designs: Exhibition/Exposition (1991) and This Rimy River (1993). Each one corresponds to a gallery exhibition of the artworks: The former in Nantes, France (and later in Paris) and the latter in Los Angeles (during the All Virgos Are Mad festival.)

Exhibition/Exposition: 249 x 249 mm, 80 pages, 140 color pictures, with text in French and English (not very long, 5000 words or so, but very interesting). Includes interviews with bands. Sleeve in 4-color printing tracing paper. Note that the first edition is less comprehensive than the second.

Laurent Lapierre compares the two books: "I used to hear that the recent This Rimy River was far better, but it's only a part of the reality: I found too much color in This Rimy River - the style of Exhibition is sober, but some illustrations seem better printed - and This Rimy River shows nothing from before 1988."

The normal edition of This Rimy River contains Vaughan Oliver's graphic works spanning 88-94. It features lots of colour pictures on various 4AD sleeves that include: Pixies, Pale Saints, Breeders, Michael Brook, Heidi Berry, etc; as well as other designs made by Chris Bigg and Paul McMenamin who, together with Vaughan, are v23. The book also has short interviews with artists that comment their feelings and reactions to v23's work.

There's also a super-limited 400 copy edition; the artbooks site says "The original page designs have been overprinted with two new layers of artwork. The first overprint, in black, utilises enlarged details of archival artwork which virtually obliterate the existing illustrations and text. This, in turn, is overlaid with one large word per page, running bottom to top in a translucent bronze ink."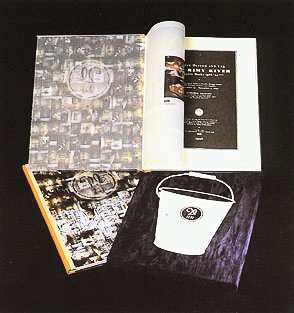 This Rimy River - Limited Edition

artbooks

---